Latest News From Cambridge Art Academy | View News Archive | Back

Noel Garner and Roos Schuring on Dutch TV weather news
Somehow Roos and me painting on a beach found its way onto a Dutch TV weather news bulletin
Posted: Saturday 12th May 2012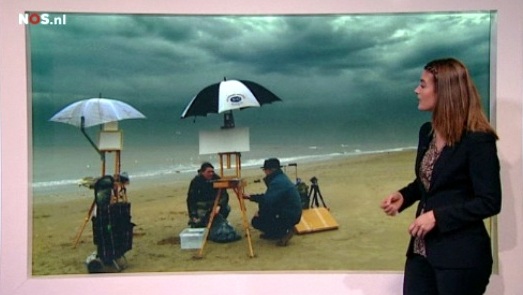 I didn't know who was out there photographing Roos Schuring and me painting on a Dutch beach last week, but somehow we managed to feature on a Dutch TV weather news bulletin. Fame!
Other News From Cambridge Art Academy
Noel Garner and Roos Schuring on Dutch TV weather news
Videos on how to paint snow scenes in oil now available.
Plein air painting day meeting with artists in Cambridge - February 2012
The world's best secret art galleries
New video on painting still life in oil from Cambridge Art Academy
Art News Calendar
Paintbox 3 The Complete Introductory course for painting in oils: 5 videos now available